The SEO company Brisbane's searching for.
Search Engine Optimisation. Three words that are most likely not used enough in your digital arsenal or like most brands, not used correctly.
We're True, providing SEO services to companies in Brisbane who need next level search engine optimisation.
Talk to a strategist
Successful marketing campaigns require successful SEO
To truly offer the right SEO services to Brisbane based businesses, you need to understand not only the search habits of your customers, but the strategies Brisbane SEO Companies are deploying to your competitors to outrank you – and that's next level SEO.
In most cases it's also known as enterprise level search engine optimisation or eSEO. Only a handful of SEO agencies in Australia (let alone Brisbane) offer eSEO due to the complex nature.
This style of SEO is usually used when you fall into 1 or more of the following categories:
You have an eCommerce website with more than 500 products to sell
Your Brisbane company targets a large area such as Australia wide or the Eastern Seaboard
Your website has a huge amount of pages, usually greater than 1000
Your website has significant amounts of monthly recurring traffic such as 5000+ unique visitors per month
Page 1 of Google & Bing is crucial to your business success
If you don't fall into any of these categories then a more structured SEO approach is recommended vs eSEO.
SEO at any level is never OUT OF THE BOX
The biggest issue in the SEO industry is the fact that most Brisbane based businesses are sold a 'set and forget' package. Usually something like $2000 per month for 5 links, 5 pages of content, 10 hours of technical, a strategy to target 50 keywords – nicely wrapped up with a few reports. That's not SEO because SEO needs to be customised and fluid – often changing from month to month. At True, we always build a bespoke SEO package with a fluid plan – if links aren't working but content is – we shift our focus to maximise growth and have you ranking on Page 1 faster (or staying there).
Growth hack.
Google prefers your website content to be conversational. Essentially producing content as if you were on the phone with a client.
Find Out More!
The six steps of SEO.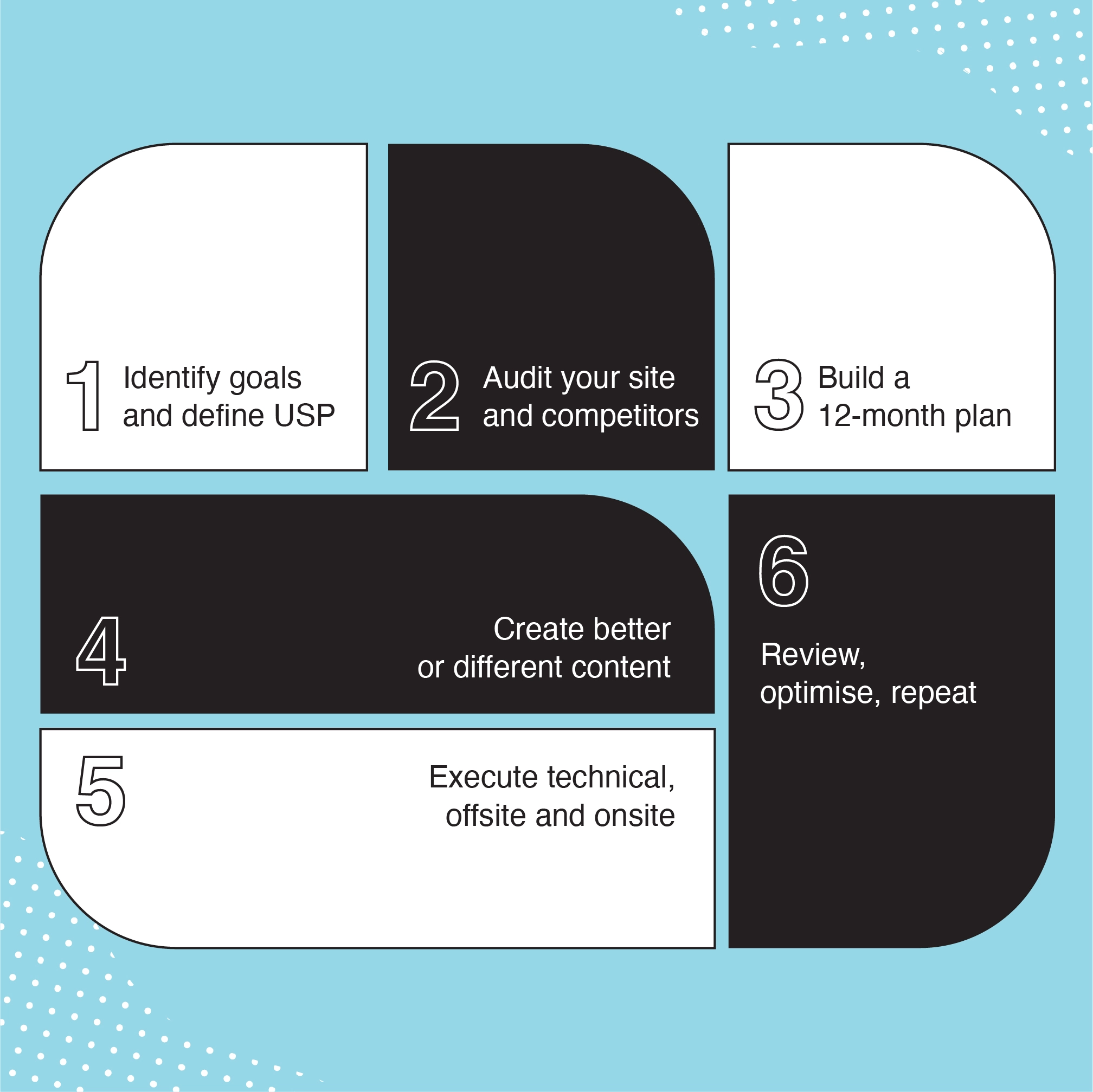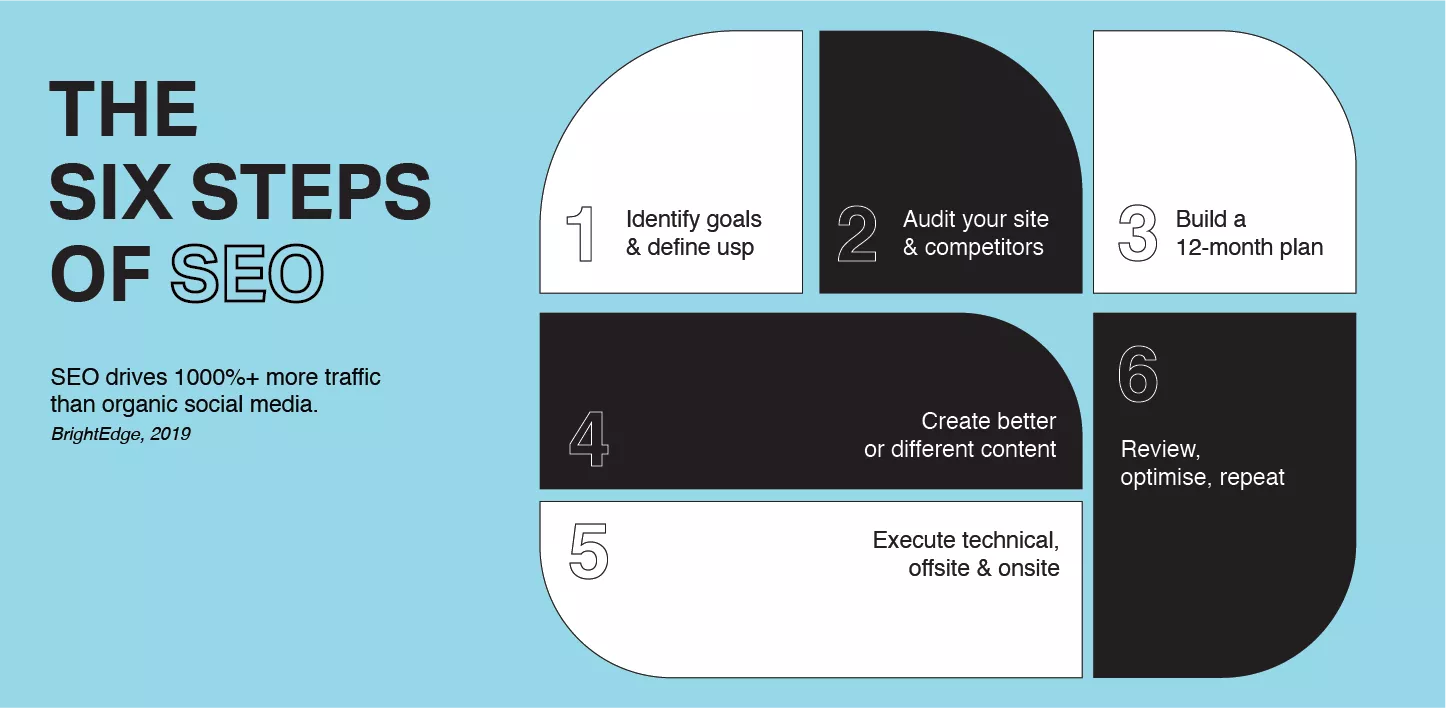 Six steps to SEO excellence.
Your Enterprise SEO goals go deeper than being #1 on Google. First things first, the important questions. What sets you apart from your competitors? What is the ideal outcome of your SEO strategy? Is it lead generation? Building your CRM database? Having these thoughts top-of-mind allows us to create tangible milestones for your SEO campaign and keeps us accountable.
You don't know where you need to be, if you don't know where you are. An audit allows you to identify gaps that your competitors haven't noticed yet, then fill them using SEO tactics. Likewise, it allows you to see exactly what your competitors are doing so you can improve on their strategy and outrank them.
Due to indexing, constant algorithm changes and high SEO activity from the market in general, you need sufficient time and data to make the best decisions. A concise 12-month plan allows you to roll out effective tactics and tweak them accordingly. After about 60 days, we start to see results and use these insights to make the smartest adjustments to your campaign.
SEO encourages a search engine to see your most relevant content. In order to climb the ranks, you need content that not only engages your consumer, but also closely matches their search query. Put the customer experience first to increase your authority, both page and domain.
Once all the pieces are in place, it's time to execute. Now we begin changing content to reflect your SEO strategy over the next 12 months. We'll collaboratively decide on the best way to undergo these changes to maximise growth and traffic.
Simply put, things change. Algorithms, protocols, other external factors. This means our tactics may be adjusted along the way according to what we believe will achieve our Enterprise SEO goals. Consistent reviews and tweaks ensure we're taking every opportunity to maximise the chance of conversion.
Get in the know with SEO.
Short answer – absolutely! Google isn't just the first place we go to find a business, it's often the last. Whether it's a search you're doing now for 'SEO services Brisbane', 'SEO company Brisbane' or something you may need, like a 'Pet sitter in Brisbane', you want results, fast. You know your product is unique but if your keywords aren't matching up with your target audience's searches, they're never going to discover what product or services you have to offer. Now flip that and imagine you're one of the top search results in your industry. That means more website clicks and invaluable exposure. We'll help you not only get there but stay there.
We're a Brisbane focussed SEO agency that prides itself on a personalised service that guarantees organic improvements. We're not about the fluff or jargon, and we don't waste a minute. Your investment goes into learning your business, then finding the best strategy to improve visibility. One of our mottos is 'humble and grateful' and that means we'll never boast about our successes, but rest assured, if you're an ambitious brand, we will accelerate your growth.
We get this a fair bit and unlike any other Brisbane SEO Company who limit keywords based on budget – we don't. Keyword and content mapping all comes down to how many products and services you offer, the size of your target market and the rate of growth you require. This is why we don't offer 'out of the box' solutions. Our SEO plans are flexible and fluid.
Looking to climb the search engine ranks?
Click below to get in touch with our team of digital experts.
Talk to a strategist