A Melbourne SEO Service Offering every company needs!
Search Engine Optimisation. We know you are curious because the search data tells us that 5,000 businesses per month are looking for SEO services in Melbourne. Well, you landed in the right place.
We're True, providing Search Engine Optimisation services in Melbourne and all over Australia who need an award-winning agency to rank them higher – faster!
Talk to a strategist
The right SEO management strategy will also improve Paid Ads
We offer bespoke SEO services to Melbourne-based businesses and brands. Part of this is a deep dive into not only your cost-per-click campaigns but your competitors' too. What Melbourne SEO marketing companies do with their clients to outrank you and steal your market share is captured via our industry-leading enterprise software and in-depth audit approach.
Google's new Dynamic Ad units automatically pulls content from your site to build a Google text ad and find your audience. This means SEO directly affects your Search Engine Marketing, Cost- Per-Click (SEM CPC). So, your SEO must be fluid (and ever-evolving) to ensure that your paid ad strategy works alongside your organic Search Engine Optimisation strategy.
This is one of many tactics we utilised through eSEO (Enterprise Search Engine Optimisation) which is a form of SEO that only a handful of SEO Agencies in Australia are using, and we're one of them.
SEO is not about links, content and product descriptions.
The biggest trick that most Melbourne-based businesses fall for, is purchasing a standard SEO package for $2,000 that only buys you a limited amount of links, content, or standard delivery of SEO tactics monthly.
SEO needs to be fluid or it just won't work. Most Melbourne SEO agencies offer a set-and-forget approach where you receive that 'standard' package on a monthly basis, however, it's only after a 6-month review when you discover it's not working for your business.
At True, we conduct ongoing audits and carry out a deep dive analysis to build you a long-term strategy. This is monitored weekly and adapted as required to ensure you steal clicks from competitors (both organic and paid) and gets you closer to your goals, faster.
Growth hack.
Relevant SEO content will mean that your Google & Bing CPC budget is optimised even more efficiently.
Find Out More
Melbourne SEO: the long-term strategy for exponential growth.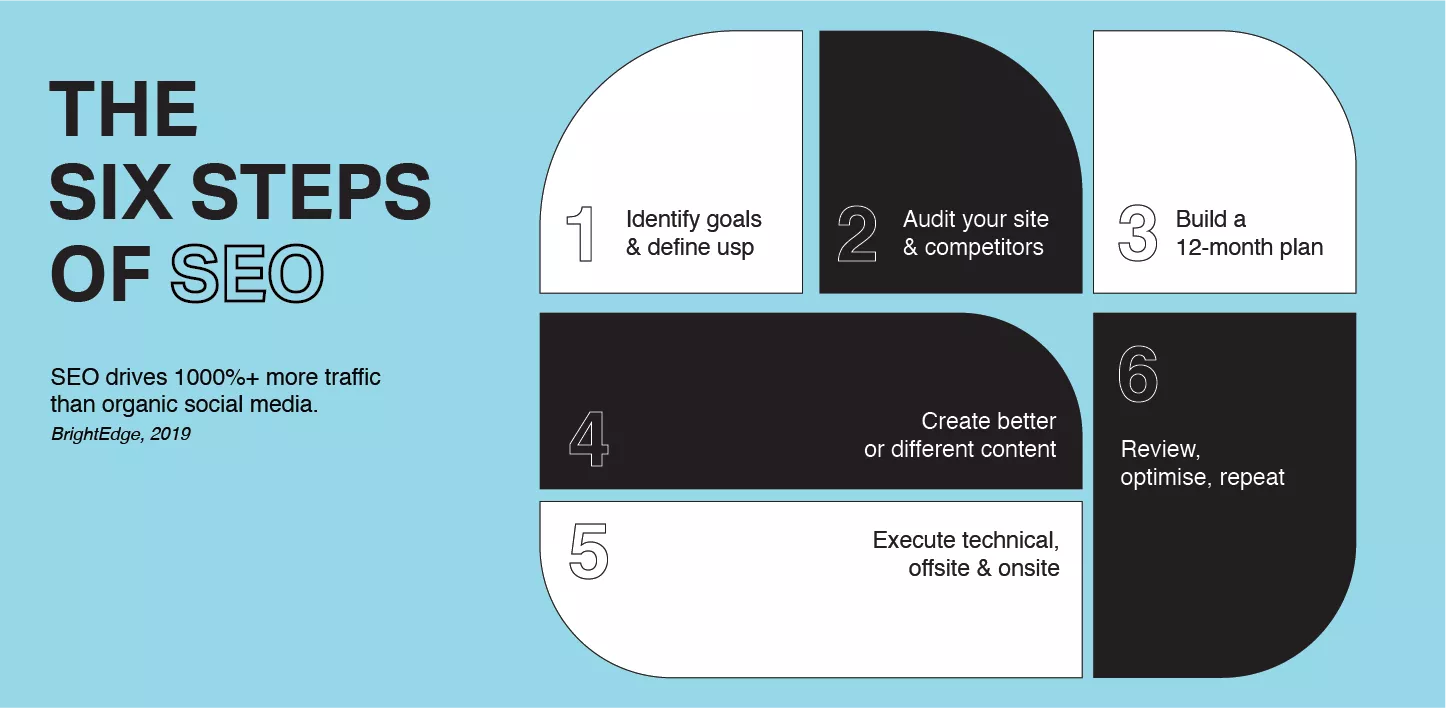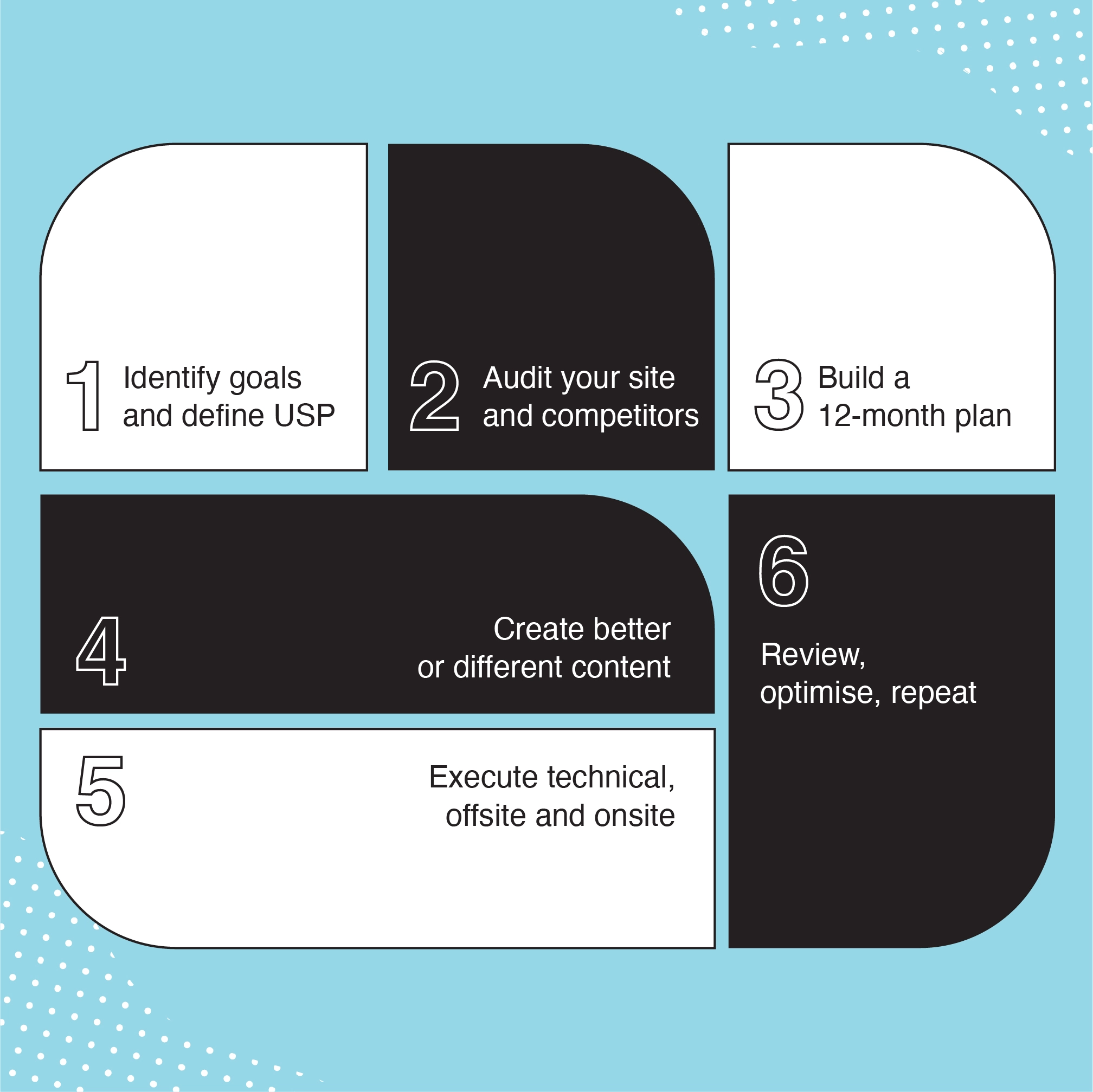 Six steps to SEO excellence.
Your Melbourne SEO goals go deeper than being #1 on Google. First things first, the important questions. What sets you apart from your competitors? What is the ideal outcome of your SEO strategy? Is it lead generation? Building your CRM database? Having these thoughts top-of-mind allows us to create tangible milestones for your SEO campaign and keeps us accountable.
You don't know where you need to be, if you don't know where you are. An audit allows you to identify gaps that your competitors haven't noticed yet, then fill them using SEO tactics. Likewise, it allows you to see exactly what your competitors are doing so you can improve on their strategy and outrank them.
Due to indexing, constant algorithm changes and high SEO activity from the market in general, you need sufficient time and data to make the best decisions. A concise 12-month plan allows you to roll out effective tactics and tweak them accordingly. After about 60 days, we start to see results and use these insights to make adjustments to your campaign.
SEO encourages a search engine to see your most relevant content. In order to climb the ranks, you need content that not only engages your consumer but also closely matches their search query. Put the customer experience first and then you will increase both your page and domain authority. And when it comes to content, it pays to have social media content that shares this messaging.
Once all the pieces are in place, it's time to execute. Now we begin changing content to reflect your SEO strategy over the next 12 months. We'll collaboratively decide on the best way to undergo these changes to maximise growth and traffic.
Simply put, things change. Algorithms, protocols, other external factors. This means our tactics may be adjusted along the way according to what we believe will achieve your Melbourne SEO goals. Consistent reviews and tweaks ensure we're taking every opportunity to maximise the chance of conversion.
Get in the know with SEO.
SEO is about being loved by Google and ranked in a time frame that suits your budget, but eSEO is like getting married to Google. eSEO is a more complex and focussed approach that gets more keywords ranked faster, and in turn more clicks & sales.
There are many factors involved, such as how much content you have, what your competitors are doing and how many products or services you offer. Those who promise Page 1 are not genuine SEO specialists (as it's impossible to determine). But, as a guide we commonly see clients rank on Page 1 after four months, when it could typically take two years.
Through a monthly in-depth analysis conducted by your dedicated Australian based SEO expert (that's right, we don't outsource overseas). We measure metrics such as links, search rankings and content production, all tracked through our own customised reporting tools.
From one of Australia's largest furniture e-commerce brands, to high profile HR businesses all located in and targeting to the Melbourne area.
Looking to climb the search engine ranks?
Click below to get in touch with our team of digital experts.
Talk to a strategist