Do you stick around for a slow website to load? No. And neither do Google crawlers. Create a website made for your audience AND SEO. We'll give you the tools to run a web page speed test.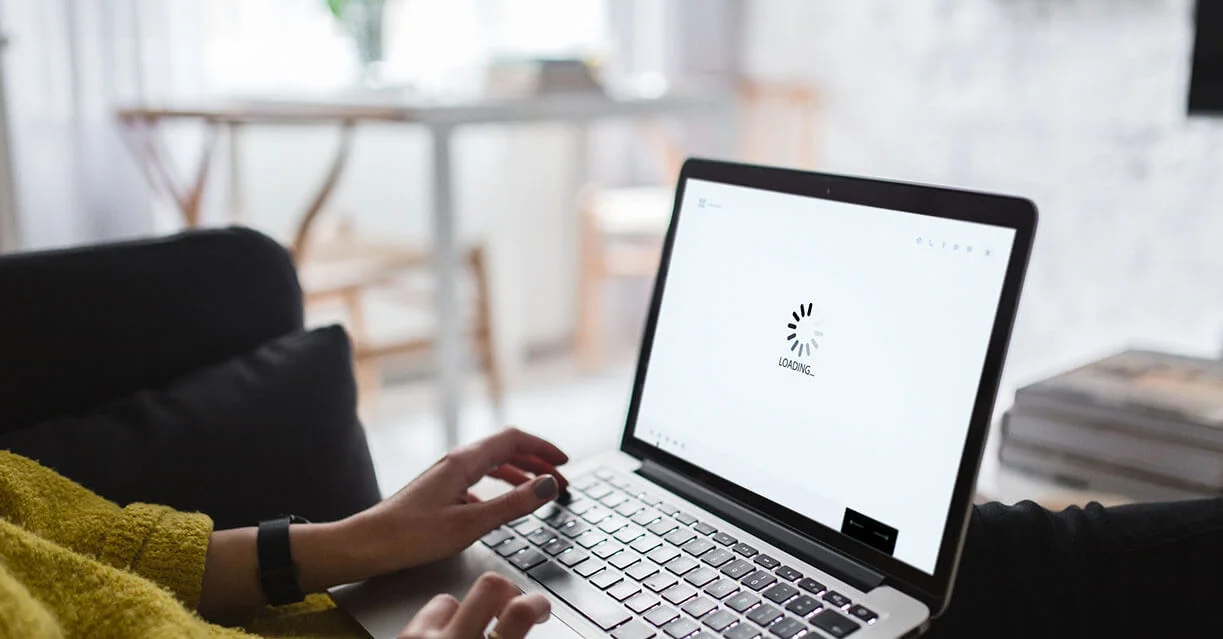 "40% of visitors will abandon a website if it takes more than three seconds to load."
Neil Patel 2023
Why run a web page speed test?
Your website's loading speed affects bounce rates, website credibility, search rankings and conversion. If a user enters your website and is met with a blank or pixelated loading screen, they're not hanging around for long. This information feeds back to Google, which will blocklist your website and lower your SERP ranking. Whether you're getting a high volume of traffic but few conversions, or little traffic at all, a web page speed test could provide valuable data for website improvements.
Talk to a strategist
Web page speed test and SEO.
Google will not rank a website that takes more than 5 seconds to load. If your website loads fast, crawlers can easily read content and promote it in SERP rankings. Fast loading keeps users on your site longer – information that feeds back to Google to boost your ranking further. Fix your speed and fix the SEO cycle. 
We talk a lot about the importance of keywords for SEO, but your website build is just as important. Slow loading speed, an outdated sitemap.xml and missing robot.txt files factor into how much (or little) of your website is indexed.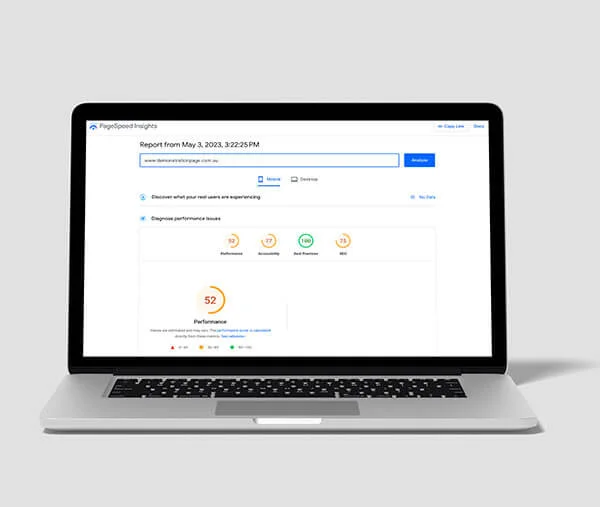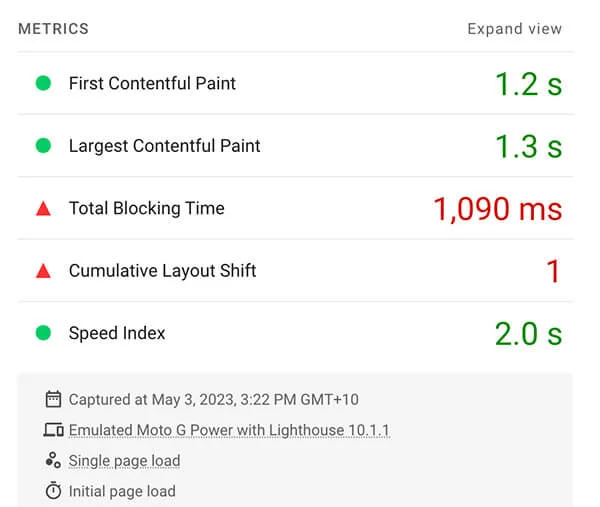 Page speed test tools.
PageSpeed Insights – Lighthouse

Your starting point for top-level insights. Created by Google, it recommends solutions to website speed issues and tests performance across mobile and desktop. 
Our top Google page speed test tool for geographical testing. Once you have an account, you'll be able to test from your primary audience's location. This powerful software generates a waterfall of errors, each with a detailed report and recommended solutions. Understanding how to use GTmetrix allows you to narrow down the cause of slow loading.

Internet speeds vary depending on traffic. WebPageTest runs consecutive tests that show an average of results, giving you a more accurate reading. Like GTmetrix, results show in a waterfall alongside general metrics and improvements. Advanced configuration allows you to test from an iPhone or desktop Chrome browser.
Tip: Set up a WebPageTest account to track your test history. Go back and review improved performance as you optimise your site.
How to test page speed?
Businesses often have the tools available but don't know how to test page speed correctly, leading to inaccurate readings and confusion around the data. Tip on using a Google page speed test tool:
All page speed test tools work slightly differently, so they will offer varying results. Remember that the internet is affected by congestion at different times, so readings might appear to speed up and slow down. Use three (or more) software for comparable data.
Google Analytics will tell you where your website is getting the most hits geographically. Keep your web page speed test local if you're a national business. If your primary customer base is overseas, test from their geographical location. As an international company servicing multiple locations, run reports across the top target areas. Test the user experience for yourself.
Get to know how well your website caching works to improve website performance. Install software like WP Rocket or Nitro for WordPress caching plugins. It's simple to use and saves learning the techy stuff.
CDNs work by caching generic items found online. Fonts are a typical example of this. If a font has been loaded from Google Fonts, your server recognises it and pulls it from cached content. Your CDN service generates saved static images, files and scripts from across the globe and reduces the need for the server to reload the full page every time.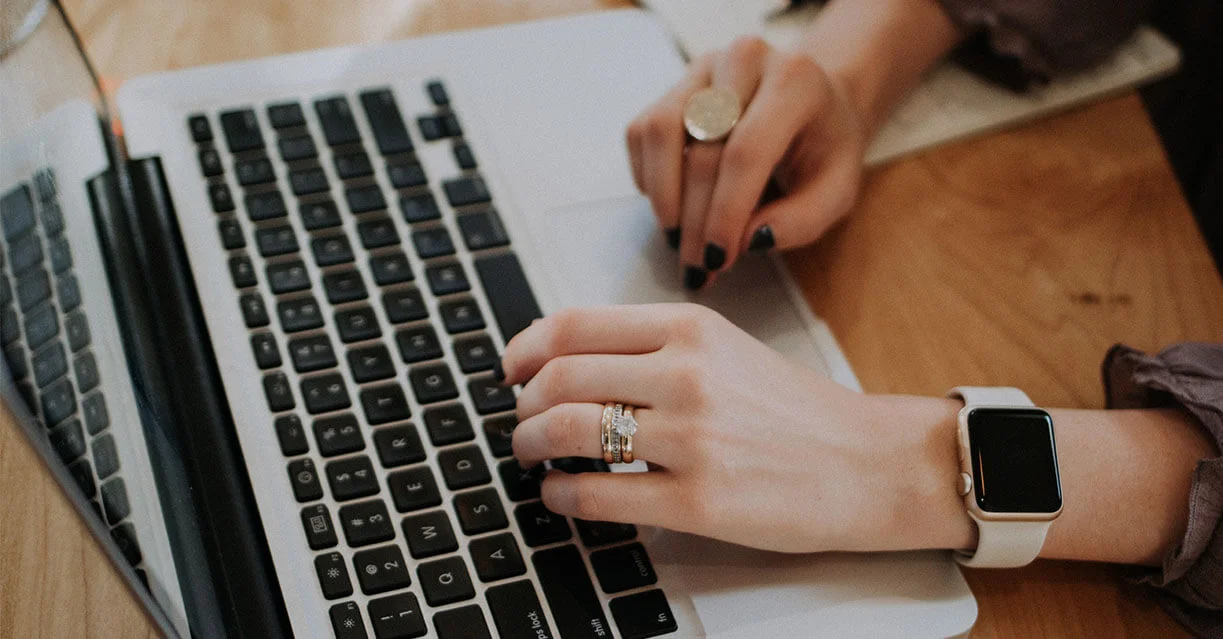 Your website needs to keep up.
Save time wondering how to use GTmetrix and Page Speed Insights (Lighthouse) other page speed test tools for your business. We're here to help. Get in touch. 
Talk to strategist